Pine Cat Litter Box System
Pine Cat Litter
How would you feel about a litter box that never has to be changed again? Is it too good to be true? The combination of natural pine litter pellets and a sifting litter box will minimize the odor and waste associated with conventional litter boxes.
Technically you never change the box, since the pine sawdust sifts to a lower compartment. The contents can be discarded in your compost pile or directly in the garden among non-food shrubs and flower beds.
Transitioning your cats to pine litter is easy. Pour about an inch of pine litter pellets into a clean litter box. Then sprinkle the top with one to two inches of your old litter. You don't have to mix the two litter types. Your cats will do that each time they visit the box. Each time you change the box, start with an inch of pine litter and add increasingly smaller amounts of the old litter. Eventually you'll phase it out completely.
Since we have multiple litter boxes, we didn't need to transition our cats. We have two boxes dedicated to pine litter and two with other litter types that they like, including the Smart Cat Box Litter System. Thankfully only one box needs to be in the house. The rest are down in the basement.
Jules Verne
I believe cats to be spirits come to earth. A cat, I am sure, could walk on a cloud without coming through.
Litter Box Humor Magnets
Here's one of our favorite inexpensive gift ideas for cat lovers who appreciate litter box humor. Everyone needs refrigerator magnets, right? Standard size square magnets measure 2 by 2 inches. Designs are printed on 100% recycled paper. Scratch and UV-resistant Mylar keeps magnets looking as good as new for years of enjoyment.
Poo Happens Cute Kitty in Litter Box 2-inch Square Refrigerator Magnet

Clean and Dirty Cat Litter Box 2-inch Square Refrigerator Magnet

Best Pine Cat Litter System
We have a couple of our own cats, and are always fostering a few from the local animal shelter. It's important to have a few different litter box options when you don't know how your foster kitties were raised. Sometimes they've only known torn newspaper in a cold stainless steel cage. Certainly they always flock to our litter boxes as if they were a special treat!
While researching the best litter box options, we learned about two-layer sifting litter box systems. The first ones we tried were manufactured by Feline Pine, and now there are several similar options available. When our Feline Pine boxes were ready to retire, we purchased Van Ness sifting boxes that work just as well with original Feline Pine and comparable natural pine pellet litter products.
Wood and Distressed Paint Cat Sign
Yes, I Really Do Need All These Cats
Primitives by Kathy Box Sign Measures 5 inches Square
Yes, I Really Do Need All These Cats Box Sign
Sifting Litter Box Advantages
Litter lasts longer since good pellets are not tossed out

The litter box never needs to be changed again

There is no tracking since the sawdust is removed

Enhanced appearance … only fresh pellets are visible

With natural cat litter the box smells like fresh pine
Natural Pine Cat Litter
Feline Pine 100% Natural Pine Original Non-Clumping Litter, 20 lbs
Simply Pine 100% All Natural Pine Pellet Cat Litter, 20 lbs
Mark Twain
Of all God's creatures, there is only one that cannot be made slave of the lash. That one is the cat. If man could be crossed with the cat it would improve the man, but it would deteriorate the cat.
Funny Litter Box T-Shirts
Shirts are popular gifts and these designs are hand-picked to celebrate feline humor. There are dozens of style options available in a wide range of colors and sizes. Click on any image to see what's available for recipients of all ages and body types.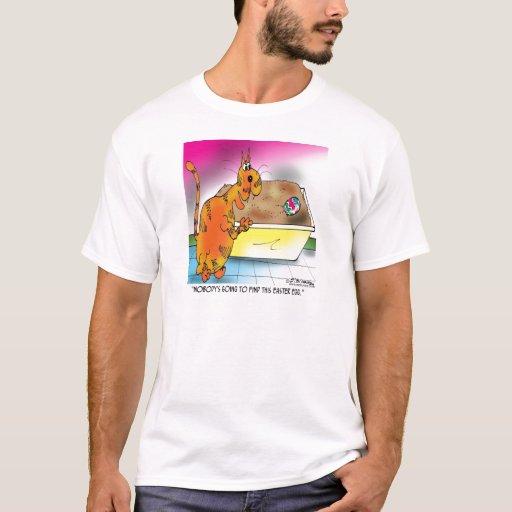 Cat Hides Easter Egg in Litter Box T-Shirt

As Happy as a Kitty with Fresh Litter T-Shirt

Pine Litter Pellets + Sifting Litter Box
Here's How a Sifting Litter Box System Works
A sifting cat litter box features an elevated pan with holes that are specially sized to sift the used pine pellet "sawdust" into a separate box below. The sawdust drops down when stimulated by cats while they're inside the box doing their business, or when the litter is stirred around with a scooper. Ideally you will want to do this a few times each day, even if no new surprises are present in the box.
Whole, fresh pellets stay in the upper box, while sawdust drops down and collects in the lower box. In theory, the litter box never has to be changed again, though you may certainly clean and disinfect the bottom portion after dumping used litter.
New pellets are added to the top as needed, and the sawdust is emptied from the lower box whenever you like. I do it a couple of times each week and just dump the sawdust in our bamboo garden where there are no edible plants.
Starting from Scratch
How to Correct Behavior Problems in Your Adult Cat
by Pam Johnson-Bennett (Certified Animal Behavior Consultant)
Starting from Scratch: How to Correct Behavior Problems in Your Adult Cat
Pam Johnson-Bennett
I've said it many times over the years–a dirty litter box is like an unflushed toilet–but yet many cat parents don't seem to understand how a dirty box is just as unappealing to a cat as a dirty toilet would be for us. The litter box should be scooped at least twice a day.
Van Ness Sifting Cat Litter Box
Product Features:
High polished finish is odor free and stain resistant

Framed pan construction provides added height and reduces litter spills

Ideal for cats that dislike enclosed pans

Easy to clean

Made in the USA
Van Ness Sifting Cat Litter Box with Frame
Natural Pine Litter is Environmentally Friendly
Suitable for Shrubs, Trees, Flower Beds
Pine litter is chemical free and great for composting. It breaks down easily and helps produce the ideal carbon-to-nitrogen ratio. Compost can then be used for shrubs, trees, flower beds, and outdoor potted plants.
Compost containing used cat litter should never be used in vegetable gardens. And no poop, please! Since cat feces may contain a parasite called Toxoplasmosis, you'll need to remove solid waste before putting cat litter into your compost pile or composting chamber.
When attending to your compost pile or bin, remember to wear gloves and wash thoroughly after coming in contact with decomposing materials. Of course, pregnant women should never come in contact with cat waste, not even while wearing gloves.
Yimby Two-Chambered Tumbler Composter
Makes Compost in as Little as Two Weeks
Yimby Two-Chambered Tumbler Composter in Recycled Black Plastic
37 Gallon Capacity Tumbling Composter
Protect Sea Otters
Huggable animals by Miyoni are made with superior materials and impeccable attention to detail. This silky plush sea otter is created with realistic styling to closely resemble otters found in nature. Every plush animal is handmade–no two are exactly the same!
Miyoni Sea Otter 10-inch Tall Silky Plush Animal
Save the Sea Otters
Spread the Word and Protect California Coast Sea Otters
There is a serious threat to sea otters living off the coast of California, and the makers of Feline Pine have issued a special alert. Most domestic cats carry Toxoplasmosis, which is likely to be causing a large percentage of sea otter deaths.
Please do not flush cat waste down the toilet. California has already passed a law requiring citizens to properly dispose of cat feces in the trash. Other states are in the process of addressing this issue as well. We keep a supply of paper bags near the litter box, and throw the bags directly in the outdoor waste bin.
Make Your Own Sifting Litter Box
Attractive and Functional Litter Box Concealers
Hey … some privacy, please! We hide our litter boxes in attractive enclosures, which are also great for trapping and containing loose litter particles. That means less time cleaning. Night stand enclosure work great in small spaces. We had one in our bathroom for many years.
Trixie Pet Products Wooden Cat Home or Litter Box Concealer in Espresso Brown
Also Available in White
Merry Products Nightstand Pet House or Cat Litter Box Cover in White
Available in Several Colors
Still Looking for the Perfect Gift?
Shop for the Perfect Gift